I use my iPhone for everything, especially in Disney World. I'm constantly readjusting my FastPasses, checking the time for my dinner reservation, playing games while waiting for a ride, and so much more. But this drains my phone's battery constantly – my iPhone 11 is brand new and doesn't even last for a full day at a Disney theme park!
Enter the portable external phone charger, which can recharge your phone while on the go! I bought and love my Jackery Bolt 6000. This charger is so important, that oftentimes I enter a Disney theme park with just my MagicBand, iPhone, and my Jackery Bolt charger and I'm good for an entire day of fun and photos!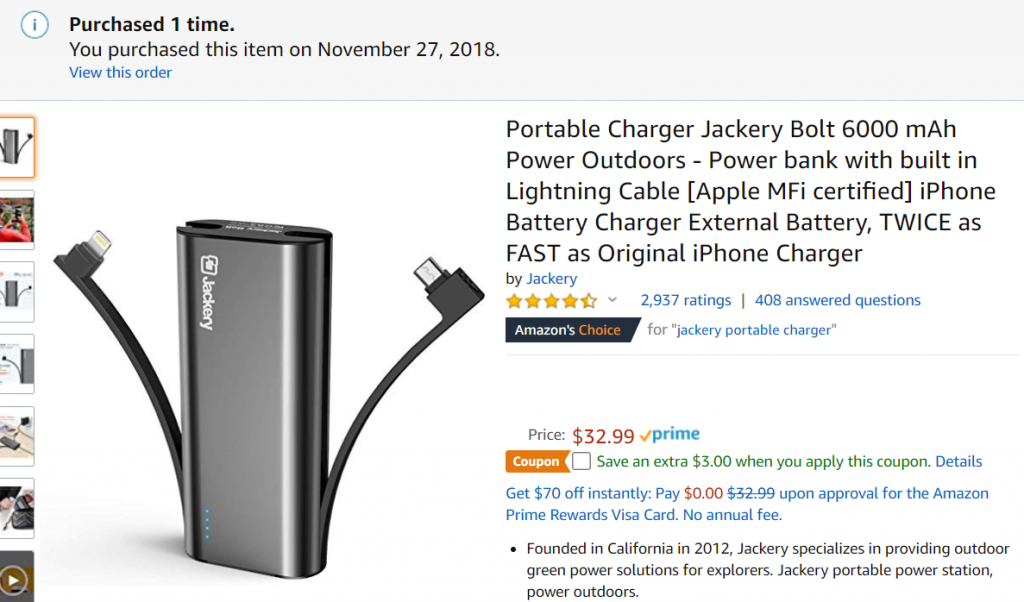 You can see from the photo above that the Bolt contains its own charging wires to connect to any iPhone and most Android devices. The wire is tough and stands up to rough handling – i frequently connect up my iPhone to the charger and shove them both into my pants pocket. The charger itself is compact and strong – after taking it to Disney World, I carry it in my bag to work every day and it still works like a dream. I've used it in the rain, dropped it on concrete, accidentally thrown it across the room, and it still works. It's a very impressive device.
When you're buying the Jackery Bolt, or a similar device, make sure it includes charging cables to connect to your phone. Having integrated cables means that you're not hunting around for wires, disentangling wires from something else, or begging for cables from someone else. Having the integrated cables, as the Jackery Bolt does, is an immense help in keeping a clean bag.
The Bolt also has a small flashlight at the bottom, adjacent to the power button. It's roughly equivalent to a small penlight, but definitely weaker than most cell phone flashlights. It's a nice addon, but not something you should rely on.
My Jackery Bolt is enough to charge my iPhone 11 twice over and still have a little power left. For older and smaller smartphones, such as my iPhone 6, the Bolt was good for almost 3 full charges. With this additional source of power, I was able to use my iPhone 11 to take pictures and video for a full day, and use it for web browsing and video playing while waiting in lines for rides. My recommendation is to start using the Bolt to recharge your smart phone once it drops below 80% charge. If you're in a lengthy seated ride (for example, MuppetVision 3D, Finding Nemo The Musical, Living With The Land, PhilharMagic, etc) or sitting down to a meal, those are both great times to connect the charger and leave the charger + phone combination at the side of your table or in your lap.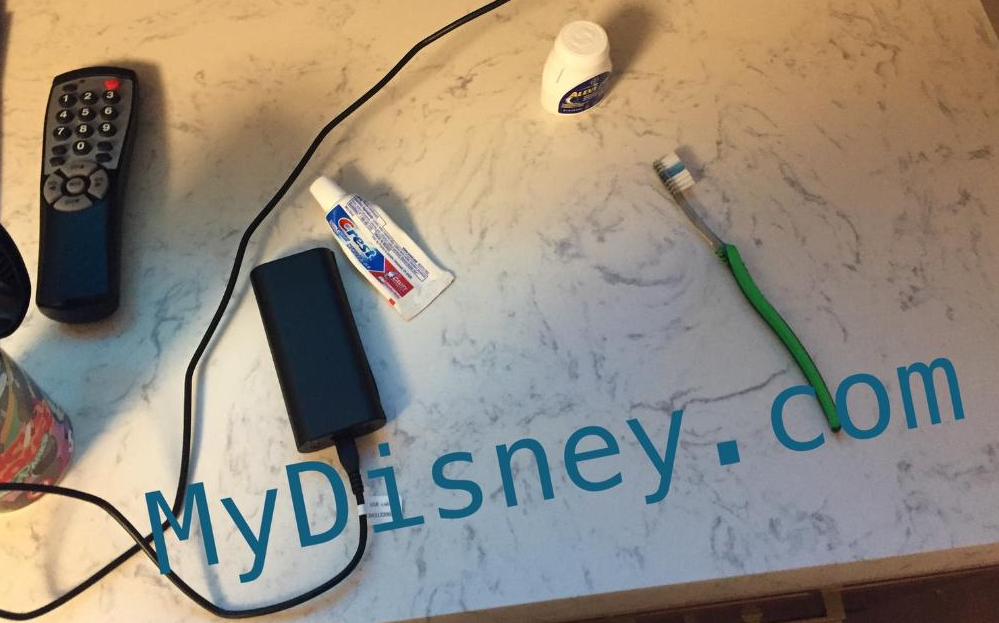 The above is a picture of my Jackery Bolt on top of a Yacht Club resort dresser with miscellaneous items for comparison: the TV remote, my toothbrush, a travel toothpaste, and a travel bottle of aspirin.
In all, I love my Jackery Bolt. It's a small, portable, immensely useful device to keep your phone charged and available for all the photos you'll be taking in Disney World! Even when you leave Disney World, it's a great tool to have around in case of lengthy school/work trips. I use mine routinely to keep my phone fully charged, even after using battery hungry apps such as Netflix, gaming, etc. You can buy one at Amazon or your local electronics retailer.
Note: This is a review of a product I use and love. I paid full price for it – I don't get any discounts, commissions, or anything else in return for my review. I recommend it because it's a terrific product, full stop.