For many people, Magic Kingdom is Walt Disney World. Magic Kingdom hosts so many iconic Disney rides: It's a Small World, Space Mountain, Splash Mountain, and Pirates of the Caribbean. Not to mention Cinderella Castle, the fireworks and parades, Main Street USA, and the many other rides and fantasy worlds to visit.
But there is so much more to Magic Kingdom: the decorations, the food, the princesses! There's a good reason why Disney calls MK the "Most Magical Place on Earth!"
Magic Kingdom is a park that really needs two days to fully appreciate. If you only have one day in Magic Kingdom, it's very important to arrive early so you can experience as many rides as possible. Below is a recommended route for the Magic Kingdom, compiled by surveying Disney guests and from my personal adventures.
A Day In Magic Kingdom
Breakfast
Have a big breakfast at your resort, and arrive at the Magic Kingdom at least 45 minutes to an hour before the stated opening time (typically 9 AM, check Disney's calendar or ask a Disney staffer for any updates).
Entering Magic Kingdom
On entering Magic Kingdom, you'll see a long street lined with shops in front of Cinderella Castle.
Go down the street to the gardens in front of Cinderella Castle (skip the shops, there will be plenty of time to shop later). If you need a morning coffee, there's a Starbucks in one of the shops on the right side of the street. Take a few moments to enjoy the views of the gardens and the castle, then hang a right towards Tomorrowland.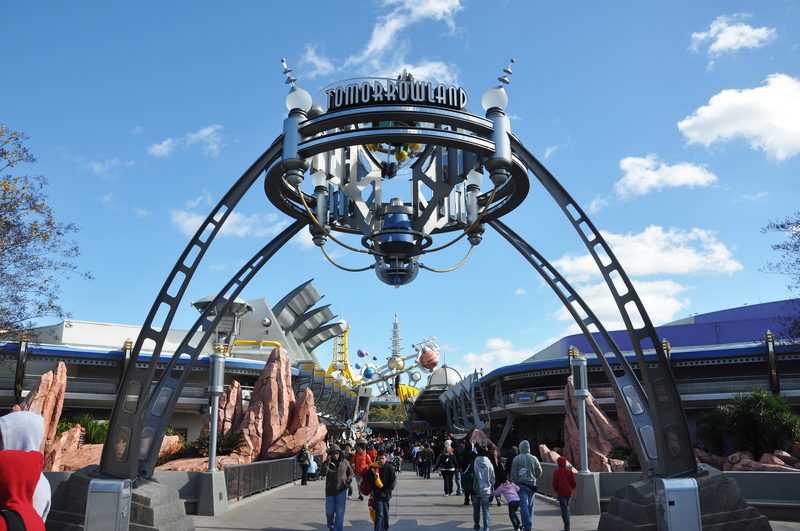 Tomorrowland
Tomorrowland is home to Space Mountain, which is probably the most recognizable Disney World ride. The Space Mountain entrance is located in the back of Tomorrowland; enjoy the ride!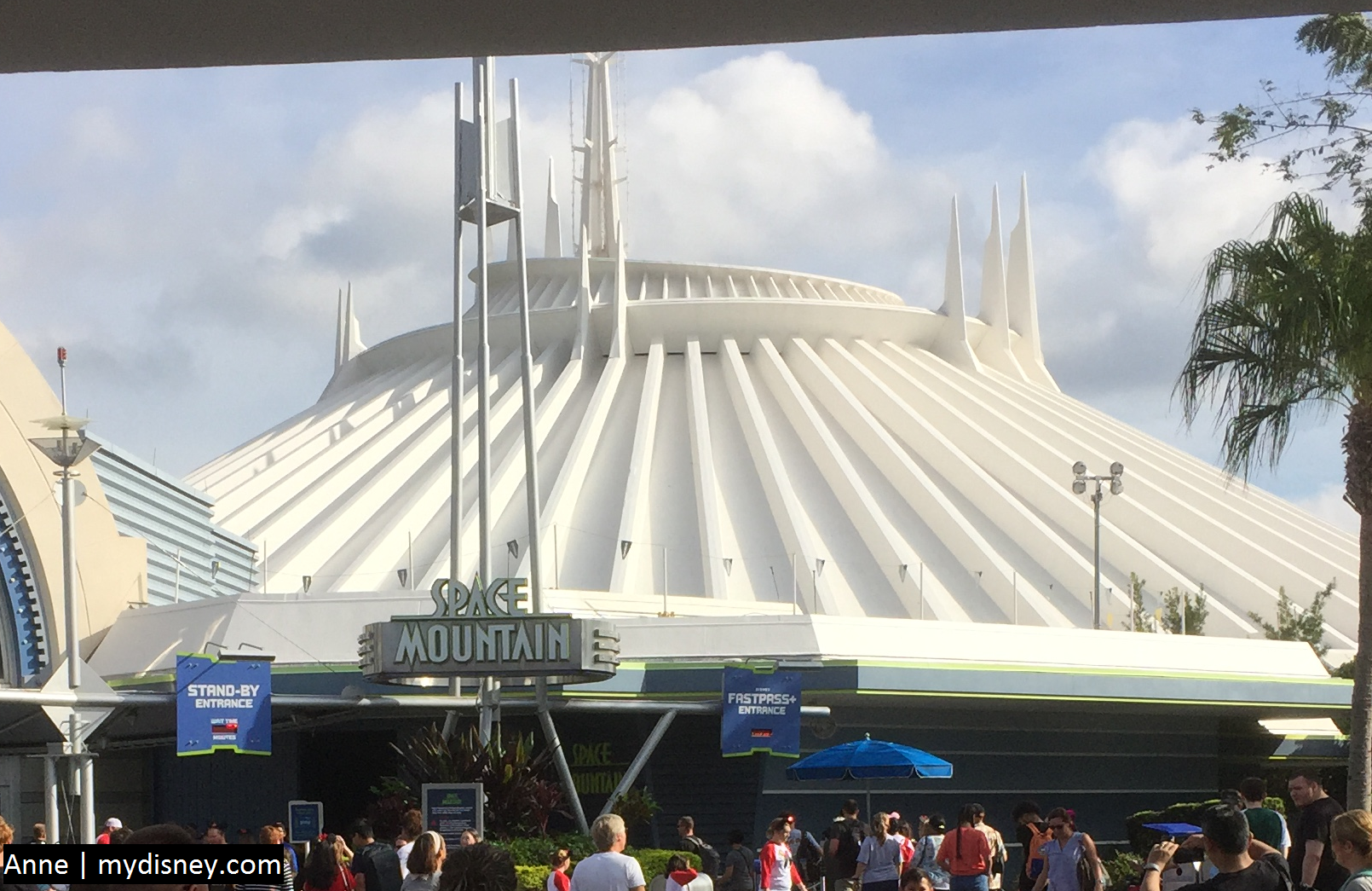 Have children in your party too short for the Space Mountain requirement (44 inches tall)? Go to the Tomorrowland Speedway, where you race cars around a track. An adult can ride in the racer along with one child.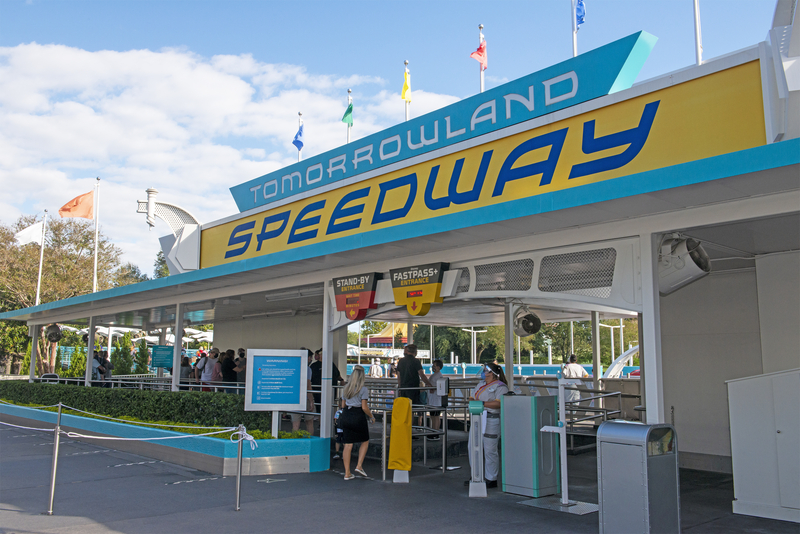 You should have passed the Lunching Pad on the way towards Space Mountain/Tomorrowland Speedway. It sells hot dogs, pretzels, and drinks. If you didn't grab breakfast before, consider grabbing a hot dog here for breakfast. They're delicious!
Another terrific ride is the PeopleMover. The PeopleMover is a tracked car ride that takes you on a tour of Tomorrowland; it's great fun and always highly rated. The PeopleMover entrance is located right next to the Lunching Pad kiosk.
If you love heights, try the highly positively reviewed Astro Orbiter (entrance located right next to the Lunching Pad). It lifts you up above Magic Kingdom and you "fly" in a circle; the ride gives you a great view of Tomorrowland.
Moving north past the Tomorrowland Speedway entrance, you'll enter into Fantasyland which is by far my favorite place in the Magic Kingdom.
Fantasyland
The first ride you see upon entering Fantasyland from Tomorrowland is the Mad Tea Party ride, where you can ride in a spinning teacup. This is a great attraction for younger children; if your kids are older than 10 I would recommend skipping it since there are other better attractions just around the corner.
If your children are 5 and under: ride the Mad Tea Party ride and then go north to the entrance of Storybook Circus. The rides here (Barnstormer, Dumbo) are aimed at the 5 and under crowd; there are also restrooms and a souvenir/snack shop in the area as well. This is also a terrific place to sit down and rest for a bit if you're tired.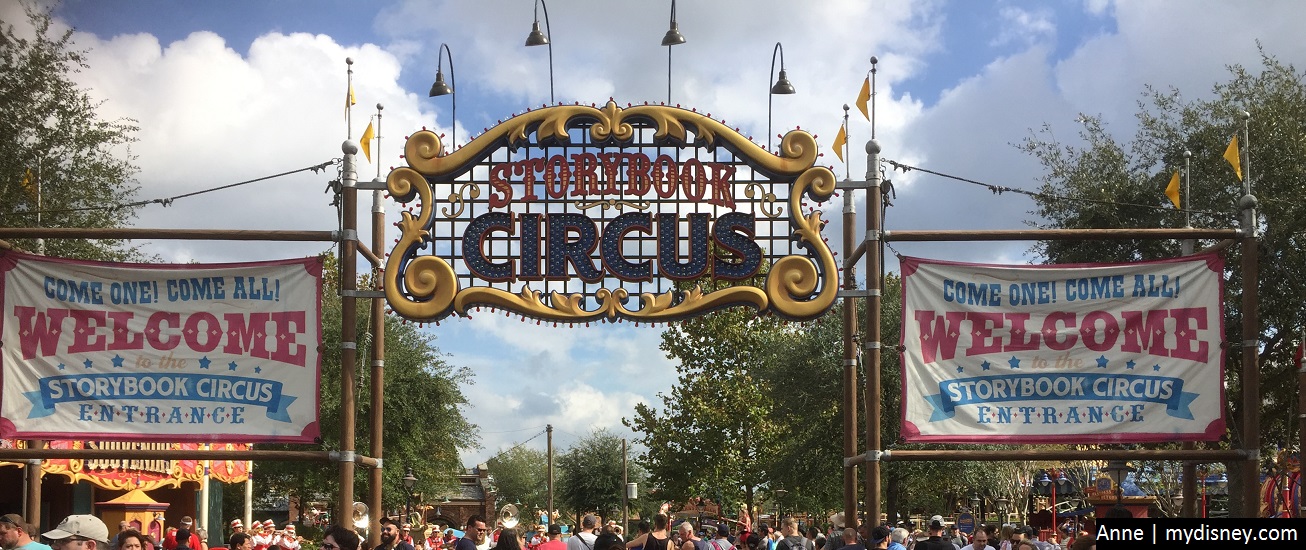 If you have older children, skip the Storybook Circus area altogether and go west into Fantasyland. There are two paths into Fantasyland: the one just after the Mad Tea Party ride will take you to the ride entrances for The Many Adventures of Winnie the Pooh (a slow ride through Winnie the Pooh scenes) and the Seven Dwarfs Mine Train (a rollercoaster). If you followed the other path, it'll take you past Storybook Circus to the Ariel's Grotto area, which hosts the entrance for Journey Of The Little Mermaid (a slow ride through scenes from The Little Mermaid).
Seven Dwarfs Mine Train is somewhat of a "kiddie roller coaster" (having a height requirement of 38 inches compared to Space Mountain's 44 inch height requirement) plus it frequently has long wait times. If your children were too short to ride Space Mountain then Seven Dwarfs Mine Train is a great option; I personally skip Seven Dwarfs Mine Train since I usually ride Space Mountain before it, and then run Journey Of The Little Mermaid and The Many Adventures of Winnie the Pooh.
I love the Little Mermaid area in particular: it's well decorated and is incredibly detailed. While you're in the queue for Journey Of The Little Mermaid, make sure to take a few moments to examine all the little details hidden in grotto "rocks". After your ride, move onwards to the Gaston Tavern (you'll recognize it by the fountain in front with a statue of Gaston from Beauty And The Beast). This is a good place to get a drink, and to shop: to the right of Gaston Tavern is a gift shop filled with very fun princess themed items for sale.
As you get to the middle of Fantasyland (roughly: where the the outer walls of Cinderella Castle are) you'll see the bridge entrance to the Be Our Guest restaurant. I strongly recommend getting reservations for this, because it has an absolutely gorgeous interior and the food is top notch.
If you prefer a less formal lunch, go past the outer walls of Cinderella Castle and look for Pinocchio Village Haus (if you see a carousel, the Village Haus is just north of it). I love the flatbread pizza here, but there's also chicken and salads available.
Moving along, you'll walk into an open area with the following rides: Prince Charming Regal Carousel, Mickey's PhilHarMagic, it's a small world, and Peter Pan's Flight. The Carousel is the large carousel that is just behind the rear entrance to Cinderella Castle, PhilHarMagic is just behind the carousel, and it's a small world and Peter Pan's Flight are located west of the carousel. I strongly recommend riding all four of these rides; they're so much fun and so iconically Disney. At the very minimum, see PhilHarMagic and it's a small world; PhilHarMagic is a short 12 minute auditorium-style attraction where you go on an adventure with Donald Duck – lights and sounds are fused together in an amazing display. It's a small world is a ride that should need no introduction: it's a boat ride through dolls singing and dancing along.
If you need to return to your resort, or want a mid-day rest, this is a great opportunity to walk through Cinderella Castle to the green commons in front of the castle and rest there or go all the way through Main Street and back to your resort. The back entrance to Cinderella Castle is located just south of the large carousel and PhilHarMagic.
Otherwise, continue to Liberty Square by going west, passing it's a small world and Peter Pan's Flight. You should see the Tangled tower in the distance – this is a hint that you're going the right way. If you need to visit the washroom, go straight to the tower and you'll find washrooms and a rest area.
Liberty Square
As you enter Liberty Square from Fantasyland, the first thing you should do is visit the Memento Mori store. It's a small store, but is stocked full of Haunted Mansion themed merchandise – they make excellent gifts!
Liberty Square features three major attractions: the Haunted Mansion (a slow tour around a "haunted" building where you see ghosts dancing and funny puns written on every corner), the Hall of Presidents (where animatronic Presidents recount the history of the US) and the Liberty Square Riverboat (a three-story riverboat takes you on a slow ride). If you have small children that are easily scared, you might want to skip the Haunted Mansion, but otherwise Haunted Mansion is a must-do: everybody loves the fun animatronics and the silly puns that are around every corner.
Hall of Presidents is an interesting attraction, but it's rather long: 25 minutes. Consider skipping it if your time at Magic Kingdom is limited. On the other hand this is a great attraction if it's raining or super-hot: you get to sit in an air-conditioned theater for 25 minutes.
As you walk around Liberty Square there are a number of smaller shops and side attractions. It's worth dropping by one for a quick snack or if you need any souvenirs.
Frontierland
Frontierland starts approximately as you see the ride entrance for the Country Bear Jamboree. This is a fun attraction especially for younger children; it features singing animatronic bears. It's great fun!
Frontierland features 4 major attractions: Big Thunder Mountain Railroad (a rollercoaster), Country Bear Jamboree (an attraction with singing animatronic bears), Splash Mountain (a log flume ride ending in a fun 50 foot drop), and Tom Sawyer Island (an island where you can walk around and see how rough life was on the frontier: take the boat from the pier just south of Big Thunder Mountain Railroad). If you have younger children, Country Bear Jamboree and Tom Sawyer Island are great fun: the island in particular is a great place for a quick rest. If your party is slightly older, then I strongly recommend Splash Mountain and Big Thunder Mountain Railroad. Splash Mountain is a Disney icon – it's a strange Disney World vacation that does not include Splash Mountain. However consider skipping Big Thunder Mountain Railroad if you're running low on time in Magic Kingdom: it's a great roller coaster, but the next and last land – Adventureland – needs some fun time as well.
As you round the western side of Magic Kingdom, you should see the entrance to one of my favorite places to eat in MK: Pecos Bill Tall Tale Inn & Cafe: this fast food restaurant serves up delicious southwestern US and Mexican dishes: tacos, fajitas, rice bowls, etc. This is a great place to grab an early dinner or late afternoon snack.
Adventureland
Moving south from Frontierland will take you to Adventureland. Adventureland is one of my favorite areas in Magic Kingdom, as it has two of MK's most iconic rides: Jungle Cruise and Pirates of the Caribbean. Ride both of them: Jungle Cruise is a short boat cruise taking you through scenes from rivers across the world while your boat captain narrates the scenes with silly puns. It's a laugh-a-minute ride. Pirates of the Caribbean should need no introduction: it's a slow boat ride through amusing pirate scenes.
There are three other attractions in Adventureland: the Enchanted Tiki Room, a theater experience where you see animatronic birds dancing and singing; The Magic Carpets of Aladdin, a ride that lifts you into the air and spins around; and the Swiss Family Treehouse, which is a treehouse that kids can go exploring in. Both Magic Carpets of Aladdin and Swiss Family Treehouse are intended for younger children: ride them if you have young kids, otherwise you can generally skip them. While I love the Enchanted Tiki Room attraction, I think it's more important to ride Jungle Cruise and Pirates of the Caribbean.
Feeling hungry? At the end of Adventureland, just before the bridge back to the central Magic Kingdom plaza is one of my favorite sit down restaurants in Magic Kingdom: Skipper Navigation Co LTD Skipper Canteen. It's a long name, but it serves top notch food themed to Jungle Cruise experiences. If you prefer a quick snack, right next door is Sunshine Tree Terrace which serves delicious Dole Whips!
Moving east through Adventureland, you'll eventually come back to the central plaza in front of Cinderella Castle. If there's still time remaining in the day, you can go back to any land and ride anything you missed the first time around. Remember that you can get through to the "back" of Magic Kingdom by going through the castle – there are curved ramps that will take you up and through the castle.