Animal Kingdom is the largest and newest park in Disney World, having been opened in 1998 but also having new lands opened fairly recently: the Pandora section of the park (from the movie Avatar) opened in 2017.
Animal Kingdom is very much a park with its own schedule: for the best experience, you need to come early. The reason is simple: the animals in the park are most active in the morning and late afternoon, and are napping or hiding in the midday (the hottest part of the day).
Here's my view of the perfect Animal Kingdom experience.
An exotic, delicious range of food awaits you at Animal Kingdom. Here are some of my favorite picks.
A Day At Animal Kingdom
As I said before, it's essential to get to Animal Kingdom early, preferably at least 30 minutes, preferably 1 hour before opening time. If you do get to Animal Kingdom early, go to the land of Pandora (take the left hand road as you're entering Animal Kingdom) and ride Avatar Flight of Passage, where you "fly" the giant birds seen in Avatar the movie.
Now if you arrive after Animal Kingdom has opened, check your Disney Experience app to see the wait time for Avatar Flight of Passage; if it's more than 35 minutes, skip it for now and come back during early afternoon. Start instead in the Africa region, in the northwest part of Animal Kingdom.
Pandora – The World of Avatar
Pandora is Animal Kingdom's newest land, having been opened in 2017.
The major ride in Pandora is Avatar Flight of Passage, where you virtually fly through, up, and under Pandora's floating mountains. It's not a roller coaster; you sit on a motorcycle-style mount and the whole platform twists and bends around to simulate flight while a large screen shows you Pandora. It's very similar to Soarin' in Epcot.
The second ride in Pandora is Na'vi River Journey. It's a slow water ride that takes you on a tour of the wonders of Pandora. Do you remember the scene in the Avatar movie where Jake (the main character) first meets Neytiri and she teaches him about Pandora's beauty and being one with the wildlife? That's essentially the story of this ride.
Also in Pandora is my favorite Disney World fast food location, Satu'li Canteen. It offers meat and vegetarian bowls where you can pick the base (noodles, potato hash, rice/beans) and the sauce (various vinaigrettes). The dishes end up being very filling and delicious. If you like to eat healthy or are a vegetarian, you will love this place. Honestly, I wish Disney would resell these bowls in grocery stores – I'd eat them every day!
Avatar Flight of Passage is a must-do, but Na'vi River Journey can be skipped if you are low on time. If you start Animal Kingdom early in the morning, start by riding Flight of Passage then coming back around lunchtime or in the afternoon for a meal at Satu'li Canteen and then riding Na'vi River Journey – the slow ride of River Journey will give your stomach time to digest your food.
Africa
Next, go to the Africa section of the park (northwest side of the park) and visit the animals! On the way you can drop by Tamu Tamu Refreshments and get a cooling drink.

In the Africa section of the park are three great attractions: Kilimanjaro Safaris, Rafiki's Planet Watch, and the Gorilla Falls Exploration Trail. In Safaris, you ride an expedition bus along a dusty trail and see animals in their natural habitats. In the Exploration Trail, you walk around and see smaller exhibits, such as birds, lizards, fish, etc and even some larger animals such as monkeys. For Rafiki's Planet Watch, you take a short train ride to the Rafiki Planet Watch section, where you can see actual veterinarians working, a petting zoo, and a selection of smaller creatures such as tarantulas and snakes. Rafiki's Planet Watch is a great choice if you have younger children that want to pet and be close to animals.
For all three of these activities, it's best if you do them in the early morning or late afternoon – the animals will be most active during these times. If you visit them during noon or the early afternoon then you may not see many animals – they'll be hiding and napping away from the heat of the midday sun.

After you visit Rafiki's Planet Watch, Kilimanjaro Safaris, and Gorilla Falls Exploration Trail, take some time to wander around Harambe (the fictional town in the Africa part of Animal Kingdom). Take special note of the graffiti and other knick-knacks here: they're usually themed around reusability and recycling.
When you're finished exploring Harambe, visit the theater-style attraction Festival of the Lion King. This is a terrific show where performers in African clothing re-enact scenes and sing songs from the Lion King movie. It's a fantastic performance, not to be missed. I strongly recommend visiting this around noon or early afternoon: the theater is air conditioned and it's a great opportunity to cool down. If you're visiting Harambe in the morning, consider going to other Animal Kingdom zones, then backtracking here in the early afternoon.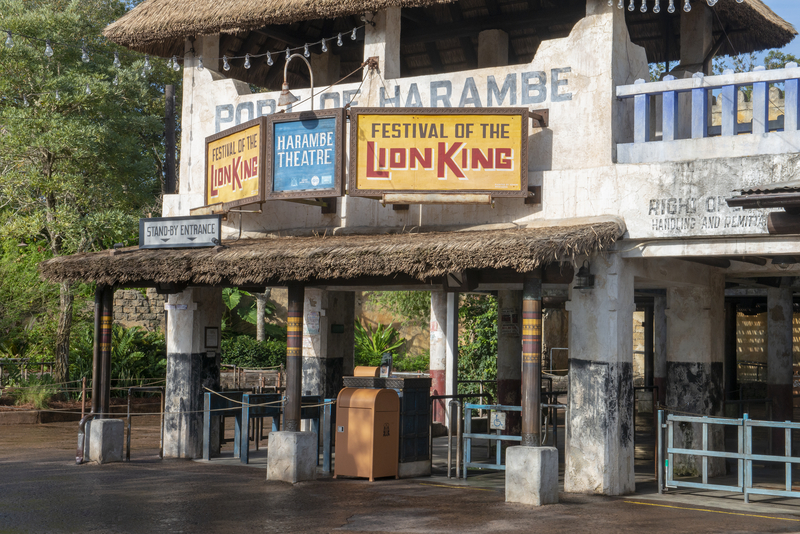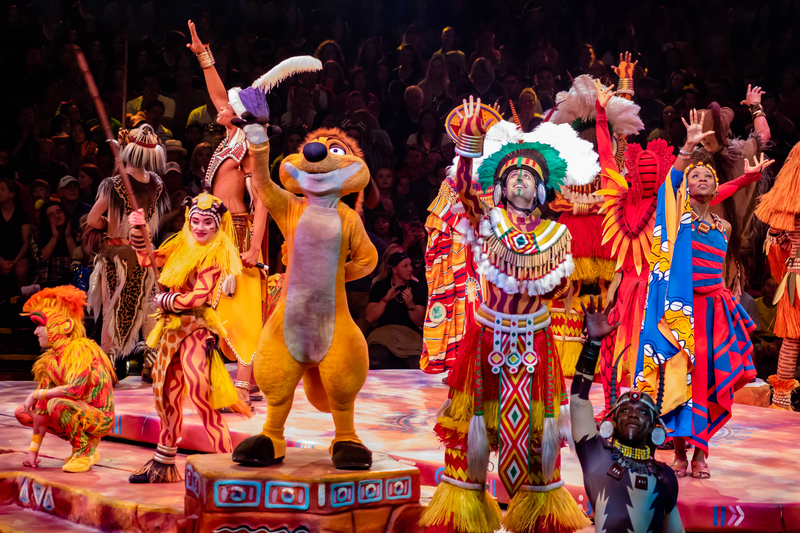 Need a quick snack? Across from the entrance to Kilimanjaro Safaris is the food vendor Harambe Fruit Market (a cart-type structure) that sells fruit, pretzels, chips and drinks. If you need something a bit more sugary to keep your energy up, right next door is Zuri's Sweets Shop with a selection of cookies, candy, and pieces of cake to satiate your sweet tooth.
Asia
From Africa, move east into the Asia section of Animal Kingdom. This is my favorite part of AK as it contains two signature action rides: Expedition Everest and Kali River Rapids. Expedition Everest is a roller coaster; the storyline is that you're taking a train to the top of Everest, but along the way you encounter a yeti tearing up the tracks. The rest of the ride is the roller coaster going backwards at high speeds to flee the yeti. Did I say the rollercoaster goes backwards? Yes I did, and it's an amazingly fun ride.
The other major ride in Asia is Kali River Rapids, where you ride a boat through a jungle river getting knocked around by rapids and a 20 foot drop. There's a strong pro-environment message along the way: keep watch for a forest being burnt and cut down, a logging truck halfway fallen into the water, and the handsome waiting area which is themed to look like a Buddhist temple.
A less action-y attraction in the Asia zone is Feathered Friends In Flight, which is a stage show where Disney animal experts show off birds. The entrance is located in front of the arched wall:
Is It Lunchtime Already?
After clearing the Africa, Asia, and (possibly) Pandora lands of Animal Kingdom, it should be lunchtime or early afternoon. There's plenty of places to eat, either a full meal or just a snack to tide you over.
If you'd like some ice cream to cool down, try the Anandapur Ice Cream truck, a favorite of mine. I love the bright colors and complex patterns!
If you'd prefer a heavier meal, I suggest the Yak and Yeti restaurant, also conveniently located in the Asia zone. Hopefully you made reservations beforehand, because this restaurant fills up fast and is hard to get reservations for. If you didn't get reservations beforehand, there is a fast food counter just outside which serves a selection of the Yak & Yeti menu. I loved the Bhaktapur Duck dish, although pretty much everything on the menu is terrific.
If you don't care for Asian cuisine, take the bridge (next to the Drinkwallah stand; just east of the Feathered Friends attraction) south back to the "main" Animal Kingdom area and go to Flame Tree Barbecue. This fast food location serves – as its name implies – fantastic BBQ. Order the ribs, you won't be disappointed.
Now if you arrived late and started your Animal Kingdom adventure in the Africa region instead of Pandora, ignore everything above and backtrack back to the Pandora section of the park. If you missed your morning chance at riding Avatar Flight of Passage, the next best option is to ride it at lunchtime/just after lunchtime. After the run, take lunch at Satu'li Canteen in Pandora.
DinoLand USA
Moving on from the Asia region of Animal Kingdom, moving south will bring you to Dinoland USA which is themed with – and you've already guessed it – DINOSAURS!
DinoLand is essentially two different areas; Chester & Hester's Dino-Rama is mostly carnival-type games for young guests, and teenagers and adults get to enjoy the Dinosaur ride. In this attraction, you ride a Jeep-like vehicle which takes you back into prehistoric times. Your vehicle races through a forest dodging dangerous dinosaurs and asteroid fragments coming down around you until you find a particular dinosaur that a scientist is looking for, then you're teleported back to the present time. This ride takes place almost exclusively in the dark – you see only flashes of dinosaurs and asteroid fragments falling, and the ride vehicle bounces around quite a bit. While I love this ride, it's a safe one to skip if you're low on time: I would prioritize Kali River Rapids or Expedition Everest over Dinosaur if you need to shave off some time on your day.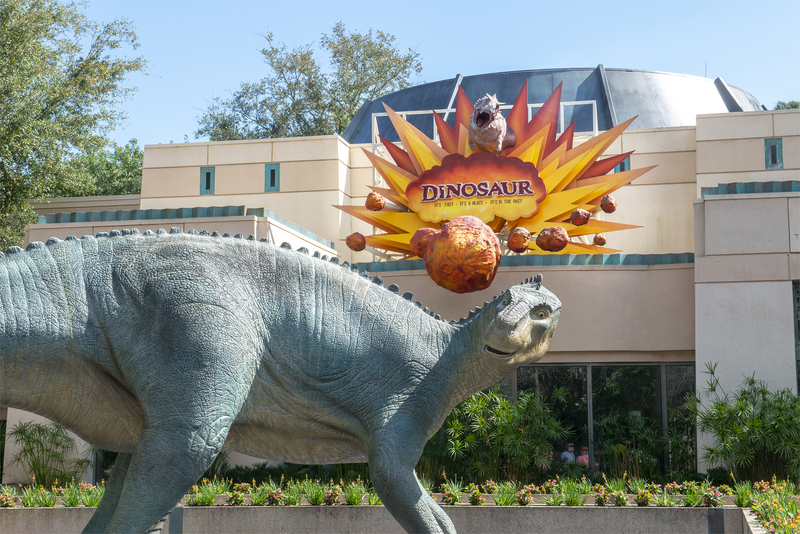 The other section of DinoLand USA is called Chester & Hester's Dino-Rama. It's a carnival-style area intended for children 10 years old and below. It has simple carnival style games and rides such as Triceratops Spin, a gentle ride that lifts riders up and down. This is a great section of the park if your children are young and love dinosaurs.
In my opinion, the best part of Dinoland USA is Restaurantosaurus, a restaurant located in the west side of Dinoland. It's a standard burgers/hot dog/salads type restaurant, but I love the fact that it has plenty of space to sit down and rest after a long day at Animal Kingdom.
While You're At Animal Kingdom…
While you're walking around Animal Kingdom, make sure to take in the views. There are plenty of side paths that will take you to small animal exhibits. There's also plenty of details, such as "graffiti" on the walls of Harambe buildings about living with the land/recycling (Africa zone), or Indian/Tibetan artwork on display in the Asia zone. For some examples, watch "The Rohdes Less Traveled" set of videos ( https://www.youtube.com/watch?v=LWpYEqxL1g0 ) which detail the incredible work Disney Imagineers put into designing Animal Kingdom.
Take The Evening Off, You Deserve It
Unfortunately there's no evening entertainment at Animal Kingdom in the same way that Epcot, Magic Kingdom, and Hollywood Studios have evening fireworks/light shows. If you arrive at Animal Kingdom early in the morning and have good luck with the rides, it's entirely possible to finish all of the attractions by mid-afternoon/early evening. If this happens to you as well, I suggest having a slow evening back at your resort, or go shopping at Disney Springs. Another choice is to take a bus to the nearby Animal Kingdom Resort, which sports two amazing restaurants that will dazzle your taste buds: Sanaa and Jiko.