Hollywood Studios is somewhat of a strange place food-wise. Historically Hollywood Studios restaurants don't rate as highly as other parks; recently Disney has been adding new restaurants and overhauling menus, so this may change in the future.
Here are the most recommended fast food and sit down restaurants in Hollywood Studios:
Recommended Fast Food Restaurants
Recommended Sit Down Restaurants
1. Backlot Express

2. ABC Commissary

3. Sunset Ranch Market
1. 50's Prime Time Cafe

2. Sci-Fi Dine-In Theater

3. Mama Melrose's Ristorante Italiano
Recommended Fast Food Restaurants
Backlot Express
Lots of seating, lots of character, and lots of choices! That summarizes Backlot Express very well. There's tons of seating available in various sections of the building, and lots of character to the name – you'll see empty paint cans, workshop tools, and miscellany decorating the seating area.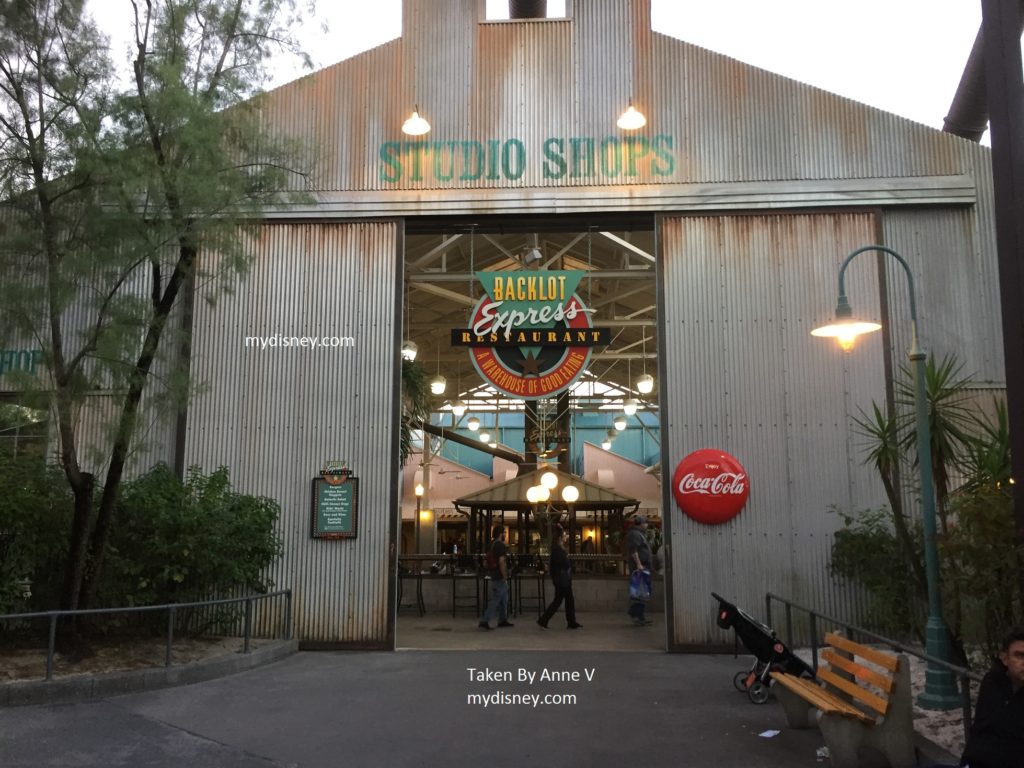 There's a ton of choices available as well: burgers, sandwiches, salads – there's an offering for everyone in the family. If you're a Star Wars fan, watch for the souvenir steins! Backlot Express is also a good break spot before/after a Star Tours ride, and it's on the way to MuppetVision 3D and Galaxy's Edge.
Recommendation: Get the Angus Cheeseburger! After riding Star Tours this is also a good place to rest and have a snack: a "Wookie cookie" hits the spot!
Sunset Ranch Market
A great spot to dine at if you have a picky eater in your party. This open-air, fast food market is composed of several smaller shops: Anaheim Produce (sells fruit, lemonade, and alcoholic drinks), Rosie's Cafe (burgers, chicken nuggets), Catalina Eddie's (pizza, salads) and Hollywood Scoops (ice cream). Regardless of what you order, there's plenty of tables to sit down at.
Sunset Ranch is located at the far northern end of Sunset Boulevard, close to the Tower of Terror and across from the entrance to Beauty & The Beast Live On Stage.
Recommendation: Get a burger from Rosie's Cafe or pizza from Catalina Eddie's. Need a snack after a Tower of Terror or Aerosmith roller coaster run? A scoop of ice cream from Hollywood Scoops will hit the mark.
PizzeRizzo
An honorary mention goes to PizzeRizzo: it's tucked away in a corner right opposite to MuppetVision 3D, with plenty of seating and a delicious pizza menu. It's a great place to relax and unwind: if you get a second floor table, you can people-watch the crowds going into the tunnel for Galaxy's Edge. There are also washrooms close by: see Gonzo's Royal Flush, look for the stairs/ramp going down next to the fountain in front of MuppetVision 3D. Unfortunately PizzeRizzo is often closed during the slow season; if it's closed, go to the nearby ABC Commissary or Backlot Express.
A PizzeRizzo meal is a personal pizza (various toppings are available), a side salad, and a drink.
Recommendation: Order a meal of a personal pizza (they sell ones with different toppings, including a plain cheese pizza), side of salad, and a drink. Hungry for more? Add in a Cuties Mandarin orange. For dessert, order the cannoli.
---
Preferred Sit Down Restaurants
50's Prime Time Cafe
Ever watched Leave It To Beaver? Great, because everything in this sit-down restaurant is themed after a 1950s-era diner. The TVs show clips from 1950s era TV shows, and the menu leans strongly towards large and heavy meals such as fried chicken, meatloaf, and pot roast.
If you describe yourself as a carnivore, or you have a big appetite, I strongly suggest you get a reservation here. I loved the pot roast, and the fried chicken is fantastic.
Recommendation: Get the pot roast. And feel free to banter with the waiters/waitresses, they encourage you to finish your food in a fun way!
Sci-Fi Dine-In Theater
Just like the 50's Prime Time Cafe, the Sci-Fi Dine-In celebrates the 1950s-era drive in theater. Your table is actually a convertible car in front of a large theater screen, which plays old sci-fi films. This is a great place for people who love history or sci-fi (including Star Wars fans!).
This is a fantastic place for a break in the middle of a busy park – the menu is varied and the restaurant simply feels more spacious due to the high ceiling. The large movie screen is set up as the central focus of the restaurant which helps to fill in any quiet spots in your table's conversation. The menu has a variety of burger and sandwich selections to sate any appetite; I've tried most of them and they've all been delicious. If you're looking for something other than sandwiches, there's also pasta, steak, salad, and a barbecue platter!
Recommendation: If you're a BBQ person, get the BBQ burger! Otherwise I would opt for the chicken or shrimp pasta options.
Mama Melrose's Ristorante Italiano
A personal favorite of mine, this restaurant is hidden even more than PizzeRizzo is. If you're having trouble finding it, go to the fountain in front of MuppetVision 3D, then go towards the main entrance to PizzeRizzo. Go past that entrance but follow the wall, and you should see the entrance to Mama Melrose tucked in a corner. Alternately, the exit for MuppetVision 3D drops you right out in front of the Mama Melrose entrance.
As you may have guessed from the name, it serves very good Italian food. I liked the Chicken Parmigiana, but essentially any pasta is a good choice. For the pickier eaters, there are also steak and fish options.
Recommendation: The Chicken Parmigiana, but the old standard Spaghetti and Meatballs is still an excellent choice!