Hollywood Studios is a Disney theme park themed around Disney movies and is the location of Disney's newest land, Star Wars: Galaxy's Edge.
There are so many great rides in Hollywood Studios, especially the Star Wars themed rides in the new Star Wars: Galaxy's Edge land. The great part about Studios is that many of the attractions are theater-based, meaning there's plenty of room for everybody.
You'll need a break while visiting all the great rides, so here's a guide to the best places to eat while in Hollywood Studios.
A Day At Hollywood Studios
Have a good breakfast at your resort, and try to get to Hollywood Studios at least a half-hour before the official opening time. Park hours are typically 9 AM to 9 PM – check with a Disney staffer or the mobile app for any changes. If you didn't have time for breakfast, I recommend grabbing a quick breakfast at Ronto Roasters (in Galaxy's Edge) or Woody's Lunch Box (in Toy Story Land). Try the breakfast burrito at Ronto Roasters or the breakfast bowl at Woody's Lunch Box.
While you're traveling to Hollywood Studios, be sure to check the Hollywood Studios map to be sure you know where you're going.
Galaxy's Edge/Toy Story Land/Pixar Place
I always recommend going to Galaxy's Edge first – it's the best way to quickly finish the popular rides in this land. Go south from the Hollywood Studios entrance, past the lake with the dinosaur, past PizzeRizzo, and enter Galaxy's Edge. You should see the entrance of Rise of the Resistance on the left hand side after you enter Galaxy's Edge.
After that, the other ride in Galaxy's Edge is Smuggler's Run where you fly the Millennium Falcon. Smuggler's Run is a fun ride, but it can be jerky and very similar to Star Tours. The entrance to the ride is also a great place for photos – you can get a selfie with the Millennium Falcon!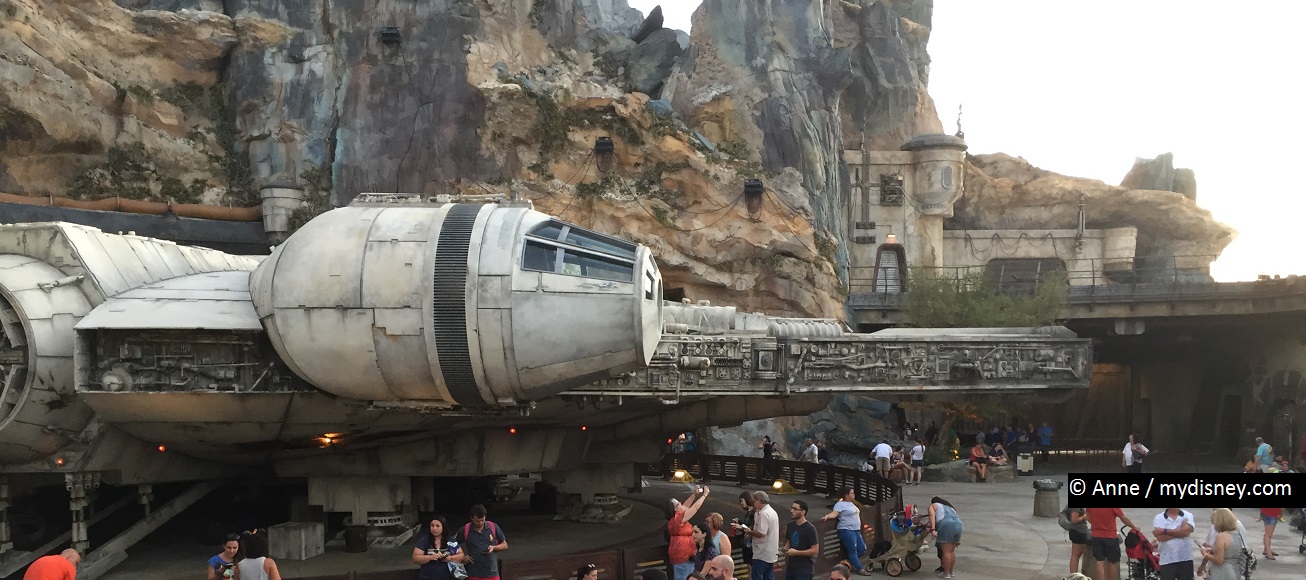 Hungry? This is a great time to grab breakfast from Ronto Roasters – find it by looking for a rocket engine being used as a grill. Ronto Roasters has a terrific selection of breakfast wraps for both meat eaters and vegetarians, along with healthy options such as oatmeal. Afterwards visit some shops in Galaxy's Edge, then leave through the northwest entrance towards Toy Story Land.
Toy Story Land has 3 rides: Slinky Dog Dash (a roller coaster), Alien Swirling Saucers (a spinning teacup-style ride), and Toy Story Mania (a videogame style ride where you play carnival-style rides). I strongly recommend riding Slinky Dog Dash and Toy Story Mania; replace Slinky Dog Dash with Alien Swirling Saucers if you have young children or the wait time is short.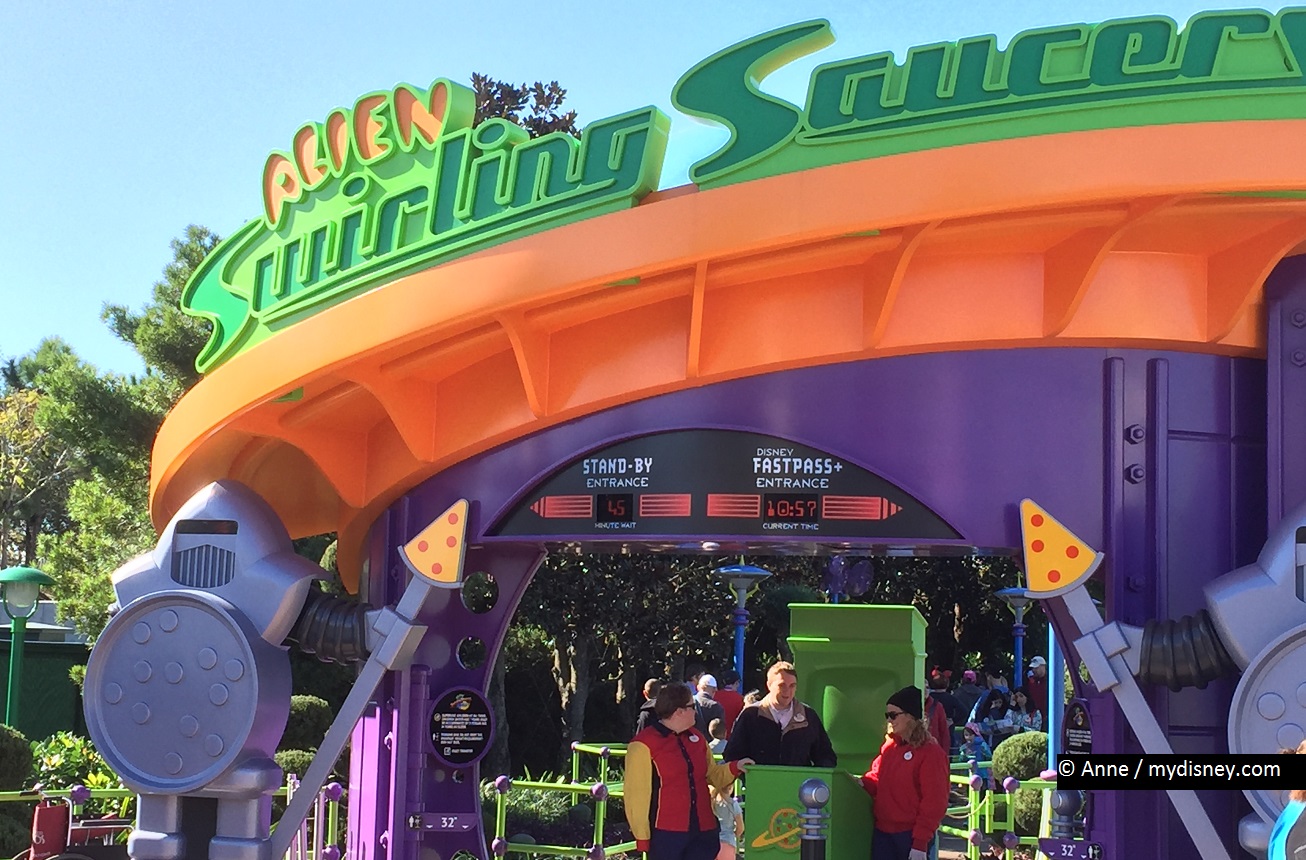 At the very minimum, ride Toy Story Mania. It's a great Toy Story themed arcade-type ride where you use cannons on your ride vehicle to play a series of mini games. It's a highly rated and loved ride, rated as highly as even the Galaxy's Edge rides.
If you need breakfast, Woody's Lunch Box is a fast food restaurant located close to Toy Story Mania. Great place for snacks, although seating can be limited. If you need to sit while eating, make sure there's an open table before you order.
Leave Toy Story Land through the north side towards Pixar Place and Animation Courtyard. On the way out of Toy Story Land, you'll see a giant statue of Woody – a great place for a photo with the family!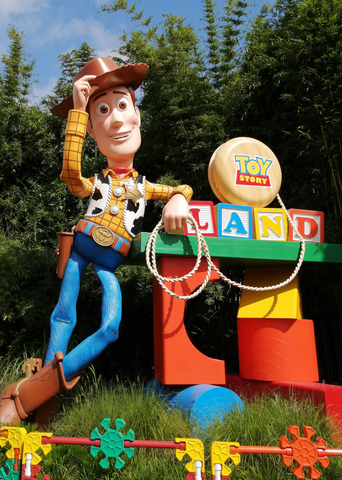 A short walk away is Pixar Place. This is a super place to take a rest; bathrooms are located right next to the entrance and there are often food/coffee carts nearby. Occasionally a character meet and greet is located inside, so take a moment to explore.
Commissary Lane/Echo Lake/Animation Courtyard/Grand Avenue
The Echo Lake/Animation Courtyard area is the center of Hollywood Studios. The crown jewel of this area is Mickey & Minnie's Runaway Railroad located in the middle of the Animation Courtyard. Despite the name, this ride is actually a slow tracked ride through a Mickey Mouse cartoon story. It's guaranteed fun for all ages.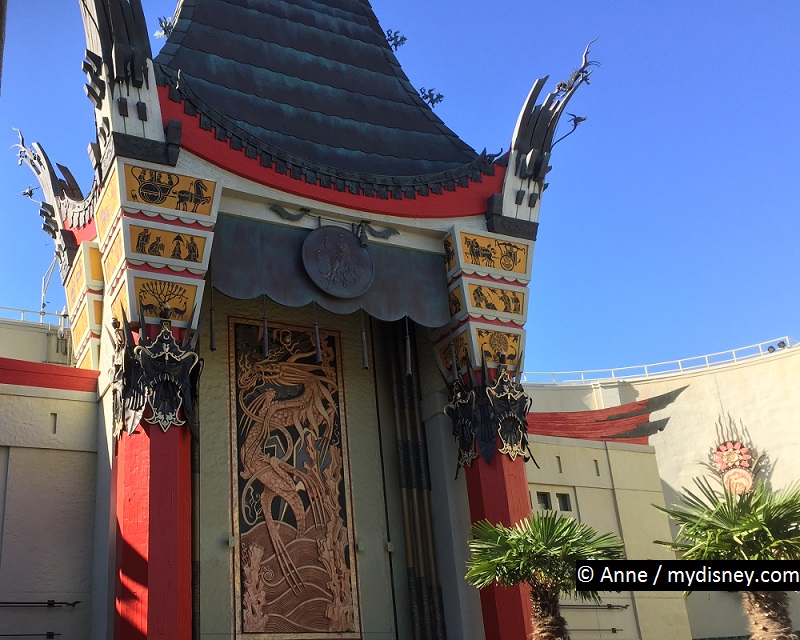 Just south of the Animation Courtyard is Echo Lake – just look for Gertie – the giant green dinosaur – and go towards her to find Echo Lake. In front of Echo Lake is a blue-colored theater which is the home for A Frozen Singalong Celebration. In this theater style attraction, actors retell the Frozen story and the audience sings along to popular Frozen songs like Let It Go. If you're a Frozen fan, this is a must-do – otherwise you can safely skip it.
Farther south is Indiana Jones Epic Stunt Spectacular – another theater style attraction where you watch a reenactment of scenes from Indiana Jones and get to see tricks on how movies are made. If you love movies and special effects, this is a must-do attraction. Even farther south is Star Tours – a flight simulator where you fly through well known Star Wars planets. You don't need to be a Star Wars fan to enjoy this ride; it's great fun and the line moves fast.
In the middle of all these rides you should be hungry. Fortunately there are plenty of restaurants – both fast-food and sit-down – available here. For a sit down experience I recommend Sci-Fi Dine In Theater Restaurant, located opposite of the Star Tours entrance on Commissary Lane. For fast food, go to the Backlot Express located just north of the Star Tours entrance – it looks like a giant gray warehouse on the outside.
Both Indiana Jones Stunt Spectacular and Frozen Singalong Celebration play on a schedule – Indiana Jones starts approximately every 75 minutes, Frozen approximately every 60 minutes. You can see the schedule on the Disney mobile app, or it'll be posted outside each theater. If you arrive just after a show starts, don't wait – try a nearby ride that goes quickly or have a quick snack. I strongly recommend either riding Star Tours or MuppetVision 3D (a personal favorite!).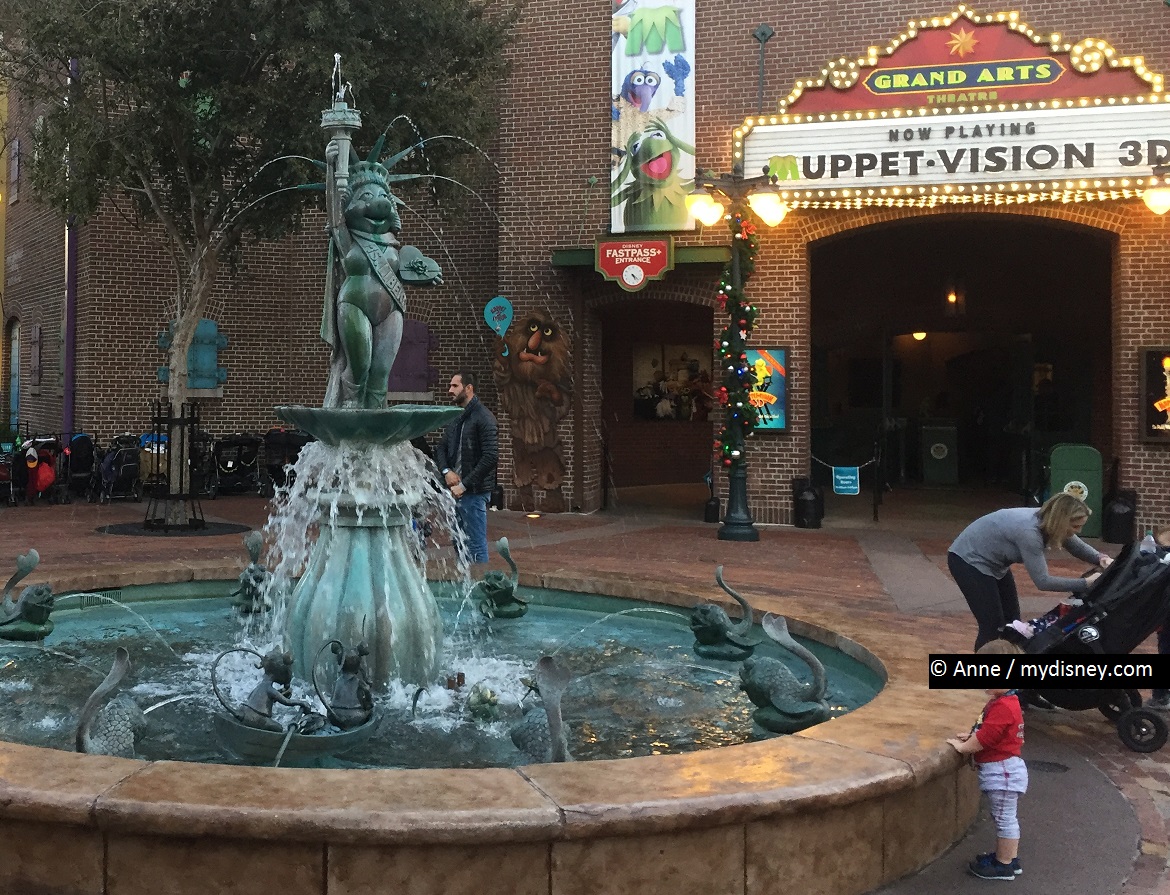 Just past MuppetVision 3D, you'll find PizzeRizzo (a pizza fast food restaurant) and a number of shops. This is a great place to eat with plenty of seating, and the shops have a good selection as well.
Hollywood Boulevard/Sunset Boulevard
Time to go shopping! Both Hollywood and Sunset Boulevard have plenty of shops. From the outside, it may look like each shop is small, but enter in and you'll realize that the shops here are pretty big, as well as interconnected with other shops. This is a great place to buy movie themed merchandise and other souvenirs. I also like to buy a bag of candy to treat myself back at the hotel room.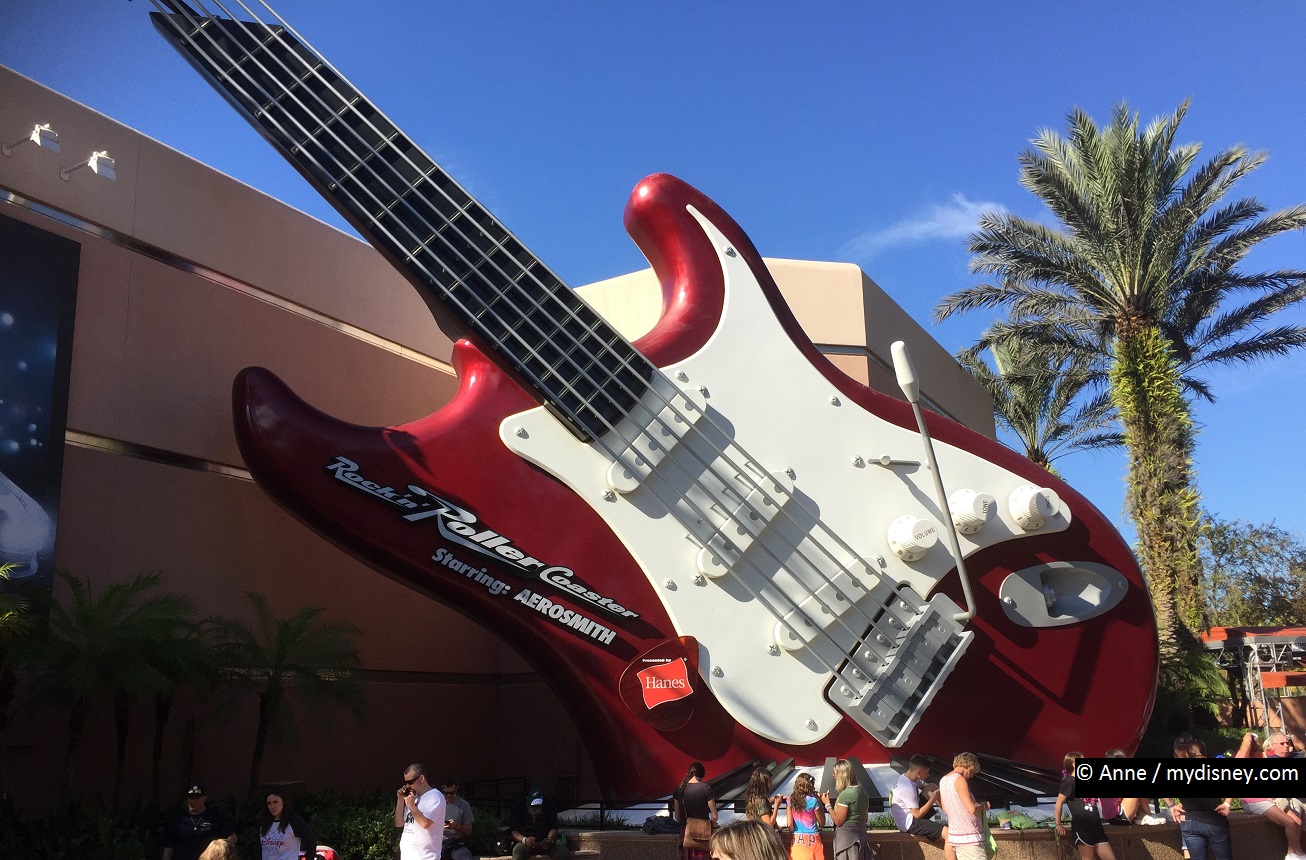 At the end of Sunset Boulevard are two rides, both strongly recommended for teens and above: Tower of Terror (the "elevator" you're in falls rapidly, themed to a horror setting), and Rock n Roller Coaster (roller coaster themed to the songs of Aerosmith). There are also two theater-type attractions: Lightning McQueen's Racing Academy and Beauty & The Beast Live On Stage.
Note that Tower of Terror and Rock n Roller coaster have height requirements – Tower of Terror requires a minimum height of 40 inches, while Rock n Roller coaster requires that you be 48 inch tall. These are also pretty dark rides – Rock n Roller coaster takes place literally in almost complete darkness, while Tower of Terror can be scary with its ghost scenes. While both of these attractions are great fun, they may be inappropriate for younger guests.
If you do have younger children, you're in luck – Lightning McQueen's Racing Academy is a fun theater type experience where you watch the Cars characters race in a racing simulator. Another theater experience is Beauty & The Beast Live On Stage – it retells the story of Beauty & The Beast with live performers. This one is a special favorite of mine – there's so much dancing and colorful characters on stage, it's a great show if you like the movie.
If you need dinner or just a snack, the Sunset Ranch Market is located near the end of Sunset Boulevard. It consists of a number of smaller fast food kiosks: Anaheim Produce, Rosie's Cafe, Catalina Eddie's, and Hollywood Scoops; these sell everything from burgers to pizza to fruit. If you'd prefer a sit down restaurant, you'll need to backtrack to the Echo Lake/Commissary Lane area.