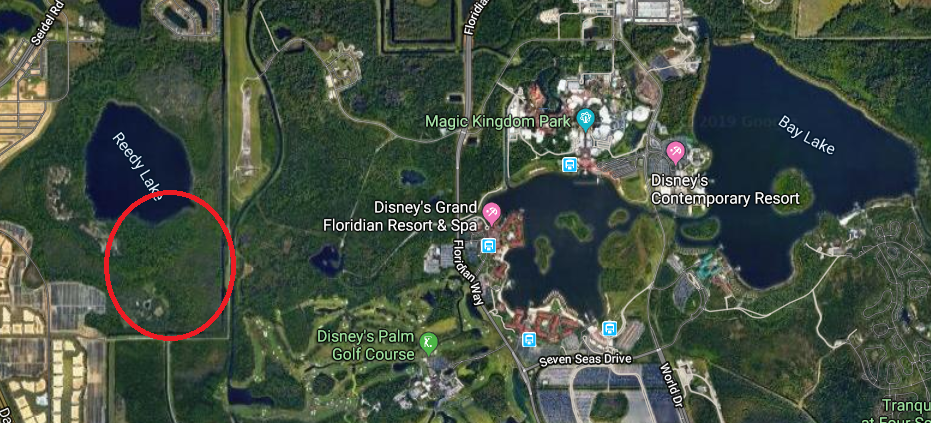 In 2019, Disney went on a land buying spree – this Orlando Weekly article covers their purchases, as well as possible uses. Disney's most recent purchase of 230 acres west of the Magic Kingdom is covered by this Comicbook article. I was curious where this purchase was so I looked it up – the red circle in the screenshot above shows roughly where the purchase is. It could be a nice place for another resort or waterpark.
MouseGear, the major merchandise store in Epcot, is closing today to be remodeled – WDWNT covers the store's closing and its history. Speaking of merchandise, new Pixar themed shirts are coming to stores – they look really nice, a great gift if you know someone who loves Pixar characters.
Lots of food related articles today – the Disney Food Blog has a video up detailing the 14 WDW restaurants to try in 2020. I love all their suggestions, and I would also add Teppan Edo (in the Japan pavilion at Epcot) as another great restaurant to try. A new review of Planet Hollywood Observatory restaurant at Disney Springs is also up – spoiler alert: the review is very lukewarm. The winning quote from the review: "just keep walking past Planet Hollywood Observatory". My recommendation for best restaurant at Disney Springs is Paddlefish – it's the giant boat docked in the middle of the Springs. Great views and great seafood. Finally, DFB notes that Animal Kingdom is introducing plenty of new foods and drinks – I particularly love the new cupcake.