I was surprised to see a lot of Disney stuff trending today; here's a snapshot of my Twitter's trending items for today, 12/27/2022: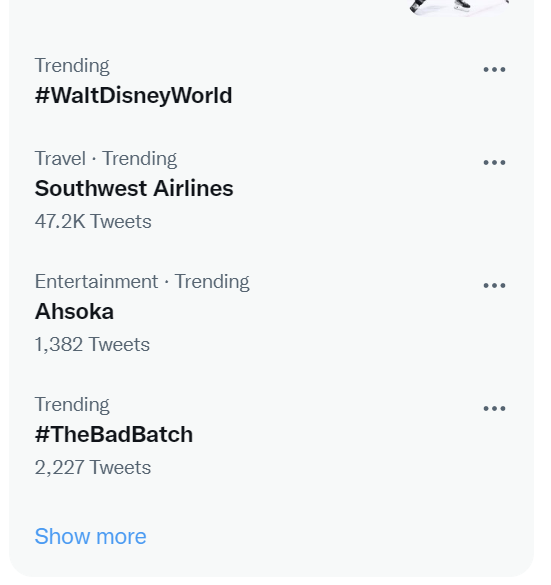 Disney World seems to be trending in general thanks to all the recent news about TRON opening, the Magic Kingdom railroad reopening, and the excitement over the Disney World Christmas TV special. But I'm glad to see there's so much anticipation over the Bad Batch returning. It's one of the shows on Disney+ that is keeping me glued to the screen:
---
One thing that is shocking to see is all the Southwest Airlines drama. Disney Food Blog did an article about it; apparently Southwest is encountering an IT problem with scheduling its flights. It's really disappointing to see so many stuck in an airport and unable to get to their vacations, especially during Christmas holidays. I'm a regular on FlyerTalk forums and it's been interesting to see the comments from experienced travelers; I particularly liked this thread covering Southwest reimbursements which I'm sure will be super-important in the coming days.